At the end of September, 2016, our customer Mr. Charles from Mauritius came to visit our factory and check out his two sets of truck refrigeration units and two sets of refrigerated truck bodies.
After nearly 2 month running with his truck refrigeration units, Mr. Charles give us a high praised feedbacks to our units.
Here let's see Mr. Charles feedbacks!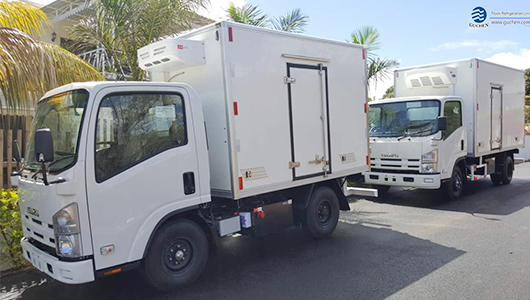 Export Place: Mauritius (Africa)
Product: 2 sets of Refrigerated Truck Body (Sandwich Structure Panels)
Size1: 4 x 2 x 2.2 m
Size2: 2.9 x 1.7 x 2 m
Product: 2 sets of Truck Refrigeration Units
Model 1: TR-300 Truck Refrigeration Unit
Model 2: TR-450 Truck Refrigeration Unit with Standby System
Apply: Mr. Charles uses these refrigeration units for food trucks to transport frozen meat for his company.
Product Characteristics: Guchen Thermo TR-300 and TR-450 truck refrigeration units are suitable for 10~25m³ refrigerated truck bodies, it can make temperature in truck bodies range from -30℃ to 25℃. These two models can be equipped with standby system, so it is very popular with those customers who need to keep cargoes frozen at night to relax but want to save fuel.
Feedbacks from Mr. Charles: Your refrigerated truck box is very smooth and flat, and the quality is very good.
At the same time, the TR-450 transport refrigeration units can meet my demands to transport frozen meat, temperature down quickly to -30℃, which save my time and my fuel! Also, the standby system is very reasonable and convenient! It help me save much more fuel, because when at night, I don't need to turn on the truck engine for cold air to keep the refrigerating system working to keep meat frozen, I just need to turn on standby system, that is OK!
I think I will have a long-term cooperation ship with Guchen Thermo!